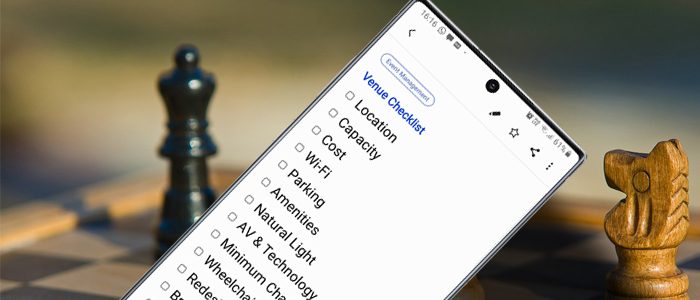 Every venue has its pros and cons depending on the kind of event you have planned. You'll have the usual hotel ballrooms, meeting rooms and hotel poolside venues. Other options could be sports arenas, convention centres, stadiums, clubs, restaurants or art galleries to name a few.
Choosing an appropriate venue is one of the key decisions you will make as it sets the tone for the rest of the event. So yes, it's a huge decision and following these guidelines will help you make a choice that's right for your event and your budget.
1. Location: most importantly, ensure that the venue you choose is easily accessible in regard to travelling distance, ease of navigation and public transport links (if you're in a country where most may use this mode of transport). If it's too out of the way, less people would be inclined to make the journey.
2. Capacity and Size: in order to decide if the capacity of a venue is sufficient, you would need to know approximately how many people are being invited or anticipated to attend. This is very important as a venue that is too large will look empty if it's just a few people conversely too many in a small venue will just make it uncomfortable for everyone! Imagine the flow, is there enough space for people to gather, is there room to set up a stage if required, where can the AV equipment be set up without it being in the way, are there enough emergency exits, is there space for the check in desk, is there indoor/outdoor seating?
3. Cost: getting a fancy venue in an ideal location may seem excellent but if the cost is prohibitive it could turn out that your event tickets get too expensive, leading to poor attendance numbers. The venue will take up the majority of any event budget therefore consider all the other cost aspects like equipment rental, branding, F&B, etc. before making a decision.
4. Wi-Fi: everyone wants to be connected whether to post pics on social media, access an event app you may be using for the event or just stay in touch with fellow attendees or friends. Having access to Wi-Fi is a bonus for which your attendees will be thankful therefore check that the venue has a reliable, strong connection especially if the cellular network signal is weak inside the venue.
5. Parking: if people are going to drive to the location, you have to ensure that the venue has an adequate number of parking spaces and subsequently people won't waste time searching for a safe space to leave their vehicle.
6. Amenities: check if the venue offers other amenities you may require (depending on the type of event). Tables, chairs, tablecloths, chair covers, buffet set up, cutlery & glasses, stage set up, catering, etc. Will the venue staff be responsible for cleaning prior to and after the event? If they don't have or don't manage any of these, it would mean additional cost through outside vendors. The more a venue is able to provide in-house, the better you'd make up as far as cost.
If you are planning an Event, we can help with the perfect Event Management App. Let's Schedule a Demo
7. Natural Light: for day time events (of course) especially meetings, ensure that the venue has natural daylight since we as a species do not do well in drab, dark spaces. Natural daylight helps people stay 'awake' and involved rather than feeling sleepy and bored. Artificial lighting does not provide the same feeling.
8. AV and Tech: most, if not all events make use of some kind of audio-visual equipment and checking that the venue has state-of-the-art equipment is very important. Your event may require a sound system, projector, screen or specialised lighting. Ideally the venue should also have an in-house team to help with connections or fix issues should they arise. The more types of equipment the venue has, the better it is since it will also help to reduce the cost of having to separately rent AV or tech equipment!
9. Minimum Charge: some venues may charge for a minimum number regardless of actual attendees so if you anticipate 120 to show up but only 110 do, the venue may still charge you for 120. It is important to know if there is a minimum guaranteed as you would have to budget keeping that in mind.
10. Wheelchair Accessible: in most cases, venues such as hotels will have handicap accessible facilities however when considering other types of venues, check to ensure that access is either present or can be provided.
11. Redesign: again depending on the type of event, you may need one large open space or you may need the ability to break up a space into smaller areas. Pursuant to your specific events requirements, ensure the venue is able to provide redesign or reconfiguration options.
12. Branding: check that there are places where your branding can take pride of place and set the tone for the event. Having spots where your event specific branding can be displayed is of paramount importance and not having to spend additional to create trusses or billboards would once again help to keep costs in check.
13. Green: we all want to be part of the movement helping to reduce, reuse, recycle, replenish and restore for our planet. Verify if the venue has a 'green' certification or if it does its part in reducing waste, recycling paper, plastic, aluminium cans and glass. Collaborate with the venue to find ways to reduce food waste at your event.
14. Force Majeure: ask if the venue contract includes a Force Majeure clause. In case any unfortunate natural or manmade catastrophe does occur close to your event date, you would be able to cancel without having to pay any penalty.
Final Thoughts:
go ahead and be adventurous in your venue selection but always make sure it ticks the majority if not all the boxes of what your event is meant to convey along with keeping costs in check. It may be a time-consuming process to settle on an appropriate venue however if you make the right decision, it will not only cut the number of vendors you have to deal with but will end up saving you loads of money.